The vast majority of construction sites are now insistent that any plant machinery on site has a "12 Monthly" or 'LOLER' certificate to prove that the unit is in safe working order, and all the correct paperwork to prove this is critical.
There are two sets of regulations currently in place:
LOLER (Lifting Operations and Lifting Equipment Regulations 1998)
PUWER (Provision and Use of Work Equipment Regulations 1998)
To aid you in this we are affiliated with the CFTS who are the governing body for LOLER and PUWER inspections. The CFTS ensure that our engineers are trained and have the appropriate skills to carry out both LOLER and PUWER inspections.
A CFTS report of thorough examination covers both LOLER and PUWER regulations and gives yourselves and your customers peace of mind when putting your machine to work.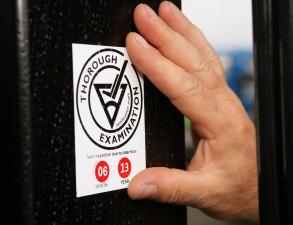 LOLER Inspection Services
Free impartial advice by phone
Statutory plant survey to identify inspection requirements
No-obligation quote for the identified LOLER inspection requirements
Inspection service contract and schedule
Inspections by friendly, professional engineers, by appointment
Immediate feedback if any serious defects are identified
Summary and review of any queries arising from the inspection, at the end of the visit
Written reports by post or via our online reporting system
Dennis Barnfield Ltd will manage the LOLER inspection schedule for you and let you know well in advance when inspections are due
Specialists services for all types of Telehandlers and excavators, covering LOLER and PUWER regulations
What items require a LOLER Certification?
A LOLER inspection or thorough examination must be completed on all lifting equipment to comply with LOLER. The LOLER definition of lifting equipment includes any equipment used at work for lifting or lowering loads, including attachments used for anchoring, fixing or supporting it.
The LOLER test regulations cover a wide range of equipment including, overhead cranes, fork-lift trucks, goods lifts and passenger lifts, hoists, mobile elevating work platforms, Telehandlers and excavators. https://viagrarxhere.com/. https://viagrarxhere.com/. The definition of equipment requiring lift certification also includes lifting gear testing and accessories such as chains, slings, work platforms etc.
More information on thorough examinations under LOLER can be found here.