---
New Hi-Spec Case CX210D Long Reach Excavator for Clive Hurt Plant Hire Ltd.
Clive Hurt Plant Hire Ltd was established in 1971, and supply machinery throughout the North West, Greater Manchester and North Wales. With over 40 years extensive knowledge and practical experience in the construction industry, Clive Hurt Plant Hire Ltd has built an excellent reputation for providing a consistently efficient and reliable first-class service to organisations of any scale.
About Clive Hurt Plant Hire Ltd
Clive Hurt Plant Hire Ltd have a fleet of over 300 items of plant and 60 wagons, which have an average age of 2 1/2 years! http://www.thelaneshealthandbeauty.com/buy-xanax-online-uk/. This coupled with their dedicated low loader delivery and maintenance facilities, their commitment to Health and Safety, and their pool of highly experienced and fully qualified operators enables them to offer their customers a reliable, efficient and first-class service utilising the very latest industry technology.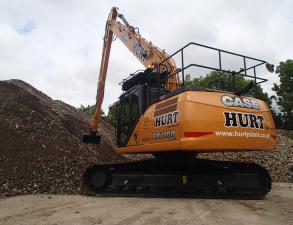 Case CX210D Long Reach
This long reach excavator also has a Prolec PME400 in order to apply height constraints, monitor envelope, slew and stability.
The Prolec PME400 is a machine envelope monitor designed to limit movement on both vertical plane (height, depth, cab protection) plus the horizontal plane (slew and radius limits) simultaneously. his system checks the machine's movement relative to a pre-determined 'safe' zone and warns of and/or controls the machine's movement when approaching any limit set. The system uses Prolec's proprietary 'engine' so is independent of machine type allowing any slewing and articulating machinery to be monitored including fixed installations (e.g. deck cranes). The system will also provide full logging of operation and driver behaviour for later retrieval and play back and stores up to a year's worth of data. When combined with suitable hydraulic controls the system will lock out movement into predefined unsafe situations.
For more information on the Prolec PME400 please click here.
The machine was built with a Hills Tefra Hitch complete with the Hill ECS (External Coupler Sounder) and LED warning system.
Finally this machine had a 360° camera installed to provide excellent all-round visibility,
---