---
Dennis Barnfield Ltd are delighted that M Forshaw Ltd have this week taken delivery of their first Ausa D1000 dumper.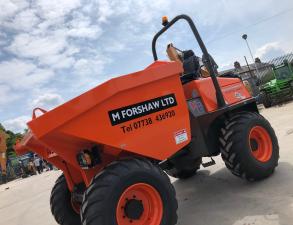 Based in Goosnargh, Preston, M Forshaw Ltd are a groundwork contractor who operate in the local area. https://www.devonhealthandwellbeing.org.uk/buy-viagra-sildenafil-online-uk/. When looking for a new 10 ton dumper to replace their old one, they chose the Ausa D1000 and Dennis Barnfild Ltd.
This particular D1000 is equipped with the Tier 4 Deutz Engine which unlike others does not have a Diesel Particulate Filter (DPF), this severely reduces the lifetime costs for the machine, with less fuel burnt for regeneration and no need to replace the filter. Mark also specified a road homolagation kit, allowing the dumper to legally drive on the roads. The machine also comes with a foldable ROPS, suspension seat, rear view mirror, anti-vandal protection, reverse alarm and amber beacon as standard.
This 10 ton dumper can also be customised at factory to have a fully enclosed ROPS/FOPS cab, and also the 'Full Visibility System' which includes a front and rear camera complete with waterproof screen, which we reported on earlier in the year.
Dennis Barnfield Ltd wish Mark and all the team at M Forshaw Ltd good luck for the future, and thank you for the business, we hope to deal with you again shortly!
More information on the Ausa D1000 dumper can be found here.
---